Just another example from the UK how government regulated care will only result in rationed healthcare in order to control costs. America is in a waiting period at the moment for our healthcare laws can mature to this point. Only then will most people stop praising Obama for his healthcare law.
By Tom Moberly, 30 January 2012
Cataract surgery, knee replacement and other 'low clinical value' treatments must only be restricted on the basis of strict evidence-based criteria, an NHS panel has warned.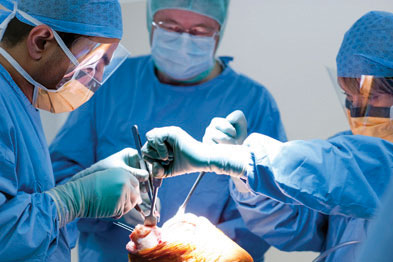 Treatments such as knee replacement surgery should only be restricted on evidence-based criteria (Photograph: SPL)
Inconsistency in access to 'low clinical value' treatments leads to postcode lotteries, the Quality, Innovation, Productivity and Prevention Right Care Team said.
Last year, GP revealed that most PCTs now have lists restricting 'non-urgent' or 'low clinical value' treatments, such as knee replacement and cataract and bariatric surgery.
The Right Care Team was commissioned by NHS medical director Professor Sir Bruce Keogh to determine how the clinical value of such treatments should be decided.
The team has now issued its 'emerging views' to NHS officials, arguing that blanket bans should be abandoned.
'We propose that the NHS Commissioning Board support the development of "value -based clinical commissioning guidance" for elective surgical care pathways through a partnership between the surgical speciality associations and NICE,' the team said.
The report sets out the key issues to be addressed in assessing the clinical value and demand for treatments.
For cataract surgery, the quality of decisions early in the referral process needs to be improved and demand balanced against NHS capacity.
For bariatric operations, the need to 'change perception' about the need for surgery is identified as a 'key issue'.
The team will develop guidance for commissioners based on these principles.
GPC deputy chairman Dr Richard Vautrey said the guidance must be transparent and implemented consistently, without local areas applying additional restrictions.
All the 'difficult discussions' about rationing needed to be led by politicians, and to be carried out openly 'with patients as partners', he said.
'We need more discussions with patients in the public arena about what the NHS can pay for and what it is inappropriate for it to pay for,' he said. Dr Vautrey added that explicit rationing needed to be carried out equitably.
'Patients will accept it, if they think it is fair and not discriminating against particular groups of patients,' he said.